Air Products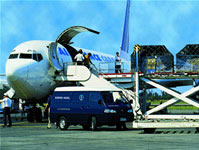 Whether you're shipping cargo one side of the country to the other, across a border or around
the world, Unitrans Freight Solution can design an airfreight solution that meets your needs.
Enhanced management of global supply chains relies heavily on on-time delivery. Unitrans Freight Solution is rolling out its industry-leading suite of standardized "all-in" airfreight products that incorporate the advantages of the process control.
our premium, performance-guaranteed express airfreight product ; our consolidation service for fast, cost-efficient time-defined delivery; for time-extended supply chain requirements; and for special cargo – features:
Automated, immediate, all-inclusive price calculation
Time-defined delivery promise
Maximum shipment visibility
Standardized invoice structure for easy checking.
Cooperating Air Line:
CX, CA, EK, SQ…..etc.
For more information, please contact us: info@ufsolution.com