Career at Unitrans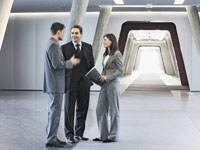 Change is the only constant in supply chain management. To keep pace, Unitrans makes substantial investment in identifying; hiring, training and developing the careers of employees who can help lead and grow our business into the 21st century.
With the goal of continually strengthening our staff, the company's Human Resources team focuses on:
Recruitment and retention of dedicated, skilled professionals and managers
Development of each employee's career
Philosophy of employee empowerment
Philosophy
During your career at Unitrans, we'll work to ensure you have opportunities to develop your professional skills and leadership abilities, contingent on your talent, personal goals and the company's requirements.
We accomplish this through:
Delegation of challenging tasks and responsibilities
Internal job rotation and career mobility programs
For more information, please see Jobs or contact Corporate Human Resources: hr@ufsolution.com
Training & Development
In line with your potential and ambitions, unitrans offer you challenging tasks, changing responsibilities and attractive project assignments. Of course, your success depends on your own attitude, competencies, ability to learn and match the company's business objectives.
Career Growth
A distinguished internship system and highly rated trainee program ensure that high school leavers and graduates receive a solid career foundation. And the company will provide you with development programs and offer guidance at key points of your career, including:
Unitrans helps professionals and managers excel in new roles and to surpass their customers' requirements.
Strategic management development program to ensure systematic identification of high-potential candidates at all levels. Succession planning scenarios, specific high-potential events and individual executive education are program components.
Internships
If you're currently a student, consider an internship with Unitrans to prepare for a career in logistics and gain further hands-on experience in this business. Our internships combine day-to-day business activities with project-related tasks.
Your internship will provide valuable know-how and an opportunity to demonstrate your abilities within one of the world's leading global logistics providers.
Send your resume/CV and cover letter to us: hr@ufsolution.com .
Trainee Programs
Are you a graduate with a logistics education or real-world experience? The company's Fast Track and Fast Track International trainee programs are tailored to individual development plans aimed at preparing you for an agreed target position.
As a Unitrans trainee you will immediately be responsible for specific tasks in your business area or you will work independently on various projects. In addition to mentoring, you will regularly receive feedback on your progress along with follow-up training, as agreed to by your manager.
For more information, please contact Corporate Human Resources at +41 (0)44 786 96 93 or hr@ufsolution.com .
Jobs
No jobs available currently!